Social Activities
From OZCHI
In keeping with the conference theme, social activities aim to share aspects of our regional and tropical lifestyle. Palm Cove has a good selection of coffee shops, bars and restaurants with five listed in the Top 200 of the Australian Restaurant Guide.
Participants may wish to combine attending the conference with leisure activities before or after OZCHI as the area, which draws over a million visitors each year, is well served by affordable accommodation, multilingual tourist services and a wide range of unique activities. Please review our suggestions for pre and post conference tour packages and special discounts available exclusively to OZCHI 2008 delegates.
Locomash
We have set up a Locomash for use by OZCHI 2008 participants before, during and after the conference, and content will be displayed on a large display in the foyer of the main lecture theatres. Locomash -- designed by Paul Coulton at Lancaster University -- allows people to take photos with their mobile phones and instantly publish them tagged with location data and other information on the web, creating a real time spatial and temporal photographic mash-up about the OZCHI conference. We encourage visitors to participate in the OZCHI 2008 Locomash. To do so, download the application from http://locomash.com to your mobile phone and take photos throughout the conference.
Welcome Reception at the Beach
7pm Tuesday, 9th Dec 2008
Welcome to Tropical Far North Queensland! We celebrate your arrival to gorgeous Palm Cove village with drinks and canapes on the lawns and in the reception of the idyllic beach fronted Angsana Resort & Spa, on the Coral Seas. You will enjoy exclusive use of Angsana's 'modern-colonial' sophistication, where we set the stage for our conference theme, under the palm trees and amidst exotic plants. Sponsored by Optimal Experience you will be treated to fantastic food and wine to stimulate your taste-buds; and enjoy conversations with friends and colleagues of the OZCHI community with tranquil views of a long, crystal-sanded beach.
Location-based Game
Wednesday to Friday
We have designed a Location Based Game especially for OZCHI 2008. Give your legs, your minds, and your humour a little gentle exercise in between sessions by participating in a treasure hunt that will introduce you to the beautiful natural environment of the James Cook University campus. You can play alone or in groups by borrowing mobile phones kindly provided by Optus. Your scores will be updated every day and displayed on a display situated in the foyer to the main conference centre.
TKRP

presents Fire and the Story: a local Indigenous Film

5.15pm (for 5.30pm start), Wednesday, 10th Dec 2008

Stingers bar, JCU campus

Fire and the Story presented by the TKRP Kuku Thaypan Fire management research project co-researcher. Filmed and Produced by a local Indigenous filmmaker, the documentary showcases fire stories from Indigenous Elders of Cape York recorded while undertaking their Traditional Knowledge Revival Pathways. This provides inspiring material for delegates to consider how technology can connect us to remote, beautiful, culturally imbued natural settings and related concerns through the voices of local people.

Sponsored by the Savanna CRC and the TKRP KTFMRP PhD "The Importance of Campfires to Effective Conservation Communication". Copies of the documentary will be available for purchase with funds going back to the Kuku Thaypan Fire management research project. So
please join us for a beer, some pop-corn and a unique inspiration.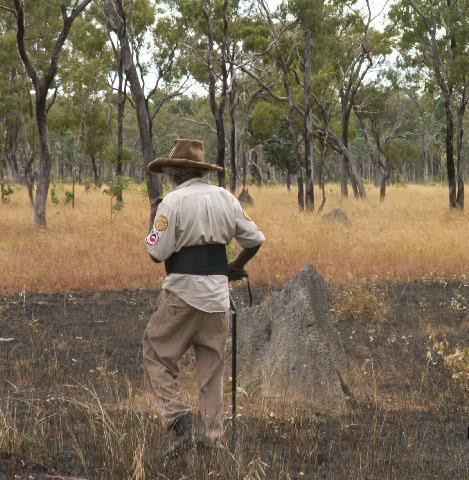 OZCHI

20th Anniversary Dinner

6pm Thursday, 11th Dec 2008

We continue our theme of enchanting natural experiences with a unique celebration of CHISIG's 20th conference. Airconditioned coaches will pick you up from the Novotel hotel in Palm Cove and whisk you to a world, which for many will be far, far away from their everyday. After the sun sets on apparently endless pristine beaches along the winding coast we will turn into a timeless forest. In the darkness, tucked deep inside the planet's oldest continuously-living rainforest we enter a place of fire and magic. Hear the echoes of the forest's night life and the sound of burbling mountain river; and see vast trees in a different light, downlit by a full moon and a sky rich with stars and uplit by a thousand candles. Sense the ancient spirit in the flicker of flames on water, a mirror of infinity. You will dine under a huge marque and in this ambient setting relax with the warm glow of Australian hospitality and spectacular food and Australian wines. Sponsored by HFESA.
Relaxation Area
Throughout the conference we are considering some small local arts and crafts exhibitions and provide a reasonably priced head massage in the relaxation area.
Novotel Pool-side Bar
The Novotel is prepared to keep the pool-side bar open longer if delegates would like to enjoy a drink with colleagues on Monday, Tuesday and Wednesday nights. We encourage you to confirm times with the Novotel reception or bar staff if you plan to visit with a larger group.
If you require further information specifically relating to any OZCHI 2008 social activities, please contact the Social Chair & Happiness MC:
Marcus Foth
Creative Industries, Queensland University of Technology
social.chair [at] ozchi.org